Commercial Juicers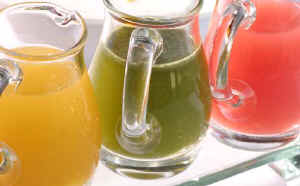 Start your own juicebar!
We are proud to announce that we are finally offering commercial approved juicers to businesses and restaurants that want to offer fresh juices to their customers. You can now start that juice bar or juice cart with minimal investment!
Usually commercial juicers can cost $2000 or more for commercial-approved models. We are now able to offer you affordably-priced commercially approved machines for just a fraction of their former cost.
The juicers below have been certified by ETL sanitation or NSF sanitation for use in Commercial Establishments, such as juice bars, restaurants, and health food stores. Many county health departments require these sanitation marks to legally use juicers and other appliances in commercial establishments.
If you are shopping for a juicer for your home, please be sure to check our other styles of juicers, as you will have a much larger selection of juicers that may offer additional benefits over the commercial certification.
Commercial Cold Press Juicers - These slow-juicers preserve more nutrition than most common high-speed ejection juicers.
Commercial Wheatgrass Juicers - These Juicers are designed specifically to juice wheatgrass. They will also juice other sprouts, microgreens. They may also juice certain leafy green vegetables, but will not juice other produce items such as fruits, root vegetables and other vegetables.

Commercial Vacuum Blenders- This is the World's First Commercial Certified Vacuum Blender that keeps a better flavor, retains more nutrients and has better storage attributes of smoothies and other blended mixtures.
NON Certified Commercial Juicers - The juicers below are being sold as Commercial Grade Juicers. They do NOT have the NSF / ETL Sanitation mark that MAY be required to use these machines legally in your establishment. Please check with your local health department to see if they require NSF before purchasing these machines for use in a commercial establishment

- Our pick for the "best" machine in the category. It is our recommendation to you of the best buy for your dollar.