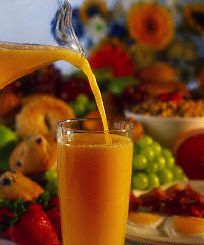 Juicers
IDEAL FOR HEALTH CONSCIOUS PEOPLE OF ALL AGES.
Nutritionists tell us that fresh, raw fruits and vegetables are an important natural source of many essential vitamins and minerals. Cooking or storing can easily destroy some of these nutrients. However, the vitamins, minerals, bioflavinoids and enzymes that are present in uncooked fruits and vegetables are the same as those found in their juices. Three 8-ounce glasses of juice can provide the major benefits of up to three pounds of fruit or vegetables.
Unprocessed fruit and vegetable juices are appetite appeasing, yet low in calories. By drinking a glass of this juice before each meal, you'll reduce your desire for starches, sweets and other high-calorie foods.
It's recognized that a diet low in fats, adequate in protein, carbohydrates and abundant in fresh fruits and vegetables, is an effective way to control weight. Here are some surprising facts from the U.S. Department of Agriculture: In the United States, vegetables and fruits supply us with 91% of our Vitamin C, 49% of our Vitamin A, and 20% of our iron-- yet less than 10% of our calories. And in pure juice form, these most nutritious of foods taste their best. We offer several style of juicers to meet your needs. Read this article to learn about the different styles of juicers.
Manual Juicers - This style juicer is a dual stage single auger juicer that does not require electricity. It juices a wide range of produce from wheatgrass to hard vegetables and also will allow you to make nut butters and frozen fruit sorbets.
Manual Press Juicers - Squeezes the juice out of the produce with pressure. It requires produce to be shredded in order to be pressed. Since the juice is pressed through a cheesecloth, the juice is virtually pulp free. It can be a slow process, since it is a manual process. The press can also be used to get further extraction from pulp from other style juicers. Click here for more information on this style juicer.
Centrifugal Ejection Juicers - These juicers use a shredding disc and a strainer basket with the sides of the basket that are slanted. This allows for the basket to be "self-cleaning", so there is no need to stop the juicer and empty it out. The pulp is ejected out of the machine, usually into a collection bin or basket. Click here for more information on this style juicer.
Wide Feed Chute Centrifugal Ejection Juicers - Similiar to the Centrifugal ejection juicers above, but these units offer a 3" diameter feed chute so you spend less time cutting and more time juicing. There are advantages and disadvantages to this style juicer, which you can read more about here.
Low-Cost Horizontal Single Auger - Low cost machine is a solid design that will juice most fruits and vegetables. For people who want to make up to 32 ounces of juice in one juicing session. Has a short warranty length.

Single Horizontal Auger Juicers - These juicers works with a slow turning single auger that basically crushes the produce into the walls (or screen) of the juicer, and in the process extracts the juice. This style juicer in general is best for people that want to juice high amounts of wheatgrass, leafy greens and sprouts. Click here for more information on this style juicer.
Low-Cost Vertical Single Auger - A revolutionary design in juicers. It takes the single auger style juicer and turns it vertically. The low cost machines are a solid design that will juice most fruits and vegetables. They have a shorter warranty length and can not perform other functions besides juicing fruits and vegetables.