The all-new Kuvings Whole Slow Juicer Elite Model C7000 improves on the original B6000 model to increase yield, convenience and more!
The Kuvings Whole Slow Juicer is the original cold press juicer with a 3 inch diameter feed chute to make juicing faster and more convenient. This cold-press juicer runs at 60 revolutions per minute to gently extract vitamins, minerals and phytochemicals from fresh fruits and vegetables.
The all-new elite C7000 model can be up to 12% more efficient than the original B6000 Kuvings Whole Slow Juicer. Both juicers create a juice rich full-bodied juice that contains more pulp than many other vertical single auger juicers we have tested.
With faster and more convenient functions, you can make your juice richer and more flavorful. Simpler assembly of Juicing screw and the Juicing Bowl enables easier assembling and disassembling, as well as cleaning of the product.
Upgraded Juicing Screw & Juicing Bowl.
3 inch -wide feeding tube accommodating whole ingredients.
3 in 1 Multi Juicer (Juicer, Sorbet Maker, Smoothie Maker).
Slow-squeezing juice extractor.
Clean and convenient Smart Cap.
A rotating cleaning brush for easier cleaning.
Cooling system to prevent overheating.
Safety-lock System.
Eco-friendly and BPA-free components.
Low-noise design.
The Kuvings Whole Slow Juicer Elite c7000 is like having 3 machines in 1! It can:
Juice Fruits and Vegetables
Make Frozen Fruit Sorbets
Make Low Oxidation Smoothies (with optional attachment)
The Highlights of the C7000 include:
Upgraded Ultem screw for best juice extraction
Unlike the existing screw, the deep hole at the bottom reduces pulp in the extract and makes more juice. The new screw not only strongly squeezes whole ingredients but discharges pulp in the drum smoothly in order to increase the amount of juice.
Juicing Bowl makes cleaning easier.
The all-in-one bottom of the Juicing Bowl enables easier cleaning and assembling. You donít need to separate silicone rings or open press silicone for cleaning anymore; it also prevents juice leaking when not fit completely.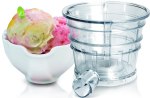 Turn Frozen Fruits into Sorbets
With the included sorbet attachment, you and your family will be enjoying frozen-yogurt consistency 100% fruit sorbets with no added sugars, flavors, or preservatives.
Includes Recipe Book to help you to get healthy
The Kuvings Whole Slow Juicer is the only cold press juicer that comes with a dedicated full-color recipe book with dozens of juice recipes as well as other recipes you can make using the Kuvings Whole Slow Juicer. It contains 75+ full color pages of bright pictures and recipes to help you get on the road to better health.
Funnel makes feeding produce a breeze
The US Release of the C7000 Whole Slow Juicer Elite includes a handy funnel. This funnel allows you to more easily feed smaller produce items like chopped vegetables or cherry tomatoes or grapes into your juicer without spilling.


Sieve allows you to determine the amount of pulp in your juice
The US Release of the C7000 Whole Slow Juicer Elite includes a 5 screen sieve that fits perfectly into the juice collection pitcher. It's efficient design easily stops excess pulp from getting in your juice if you desire a totally pulp-free juicing experience.


The official US Release of the Kuvings Whole Slow Juicer C7000S includes the funnel and sieve. If you see pictures of sellers offering the C7000 without the funnel and the sieve you may be purchasing a grey-market machine. Purchase from an Authorized Retailer to ensure you get the official US release that includes the 10 Year Warranty. We are an Authorized Kuvings Retailer.


All Natural
The wider feeding tube, enough to accommodate an entire apple, makes extraction simpler and more convenient. It also minimizes loss of natural color, taste and nutrients of ingredients by reducing exposure to the air.


3 in 1 Multi Juicer
The product can be widely used for making juice as well as ice cream and smoothies (with optional accessory). Replace the juice strainer with an blank strainer for ice cream, and with the optional smoothie strainer for soft smoothies.


Juice Quality
The patented J.M.C.S (Juicer Module Comprising System) enables balanced extraction of fruit flesh and juice. By minimizing layering, fresher and richer juice can be produced.



Clean Up
After juicing, you can easily clean up trace residues in the juice strainer. Put the rotating cleaning brush and the juice strainer together and twist them against each other.



Quiet
Using its built-in low-noise design, with a slow-rotating, special deceleration motor, the product generates less noise and vibration.



Convenient
The Smart Cap enables easy cleaning after continuous juicing and prevents leaking while pouring juice in a glass. Moreover, it helps more than two kinds of ingredients mix together for richer and various customized juices.


Useful
Translucent hopper enables one to see an entire apple being juiced. You will instantly be able to tell if produce is jamming the feed chute, in which case, the pusher should be used.



Safety
The product is made with safe and reliable materials; the extracting container with BPA-free Tritan, and the juice strainer and the screw with strong and safe Ultem.

Specifications:
Silver Color
Cold Press Juicer
UL CE TuV Approved
Low Speed 60 RPMs
240 Watt Motor 120 Volts 60 Hz
9" W x 8.25 D" x 17.5" H
25 pound shipping weight
10 Year Warranty on Entire Machine when sold in the USA
Accessories included:
Kuvings Whole Slow Juicer Motor Base C7000, Silver
Juicing Bowl
Smart Cap
Juicing Screw (Auger)
Rotation Wiper
Juicing Screen with Small Holes
Sorbet Blank Attachment
Lid with 3" Wide Feed Chute
Funnel Attachment
Food Pusher
BPA Free Tritan juice cup
BPA Free 5 Screen Plastic Sieve
BPA Free Tritan pulp container
Over-sized cleaning brush
Spout Cleaning Brush
Special Screen Cleaning Tool
Instruction manual
Recipe Book (Full Color) 75+ Pages