SORRY! THIS OFFER HAS ENDED.
(Good Nov 14, 2004 - Dec 22, 2004)
For a limited time, you will receive bonus items when you purchase the following items. In order to get the bonus items, you MUST order off this web page. If you order off the normal web page, you will not receive the BONUS GIFT items.

Buy a Personal Blender PB-200 for $79.99 and get $25.94 in gifts FREE!

| | |
| --- | --- |
| | Retail Value |
| 1. Plastic Chopping Board | $4.50 |
| 2. Extra Large Cup with Lid | $8.50 |
| 3. Commuter Lid | $2.99 |
| 4. Smoothies & Other Scrumptious Delights Book | $9.95 |
| Total Value | $25.94 |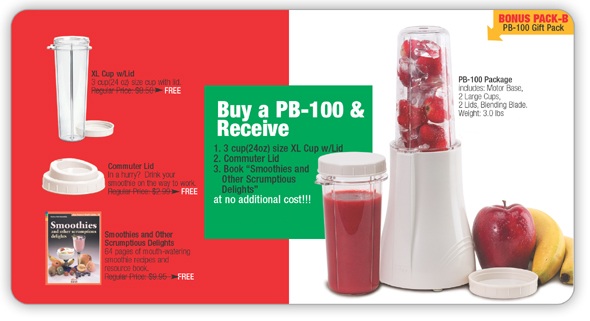 Buy a Personal Blender PB-100 for $59.99 and get $21.44 in gifts FREE!

| | |
| --- | --- |
| | Retail Value |
| 1. Extra Large Cup with Lid | $8.50 |
| 2. Commuter Lid | $2.99 |
| 3. Smoothies & Other Scrumptious Delights Book | $9.95 |
| Total Value | $21.44 |
Buy a Z-Star Juicer for $79.99 and get $20.93 in gifts FREE!

| | |
| --- | --- |
| | Retail Value |
| 1. Wheatgrass: Nature's Finest Medicine Book | $12.95 |
| 2. Vegetable Brush | $3.99 |
| 3. Solo Star Flexible Chopping Board | $3.99 |
| Total Value | $20.93 |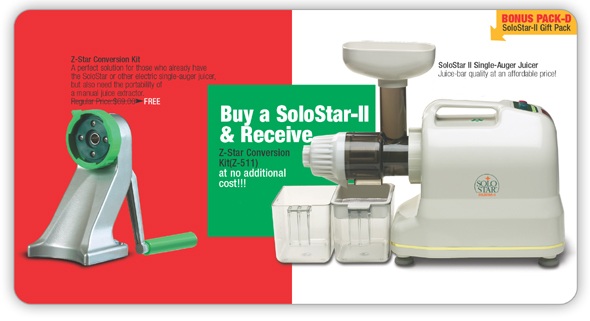 Buy a SoloStar II Juicer for $259.99 and get a $69.00 value gift FREE!

| | |
| --- | --- |
| | Retail Value |
| 1. Z-Star Conversion Kit | $69.00 |
| Total Value | $20.93 |
Green Star 1000 Juicer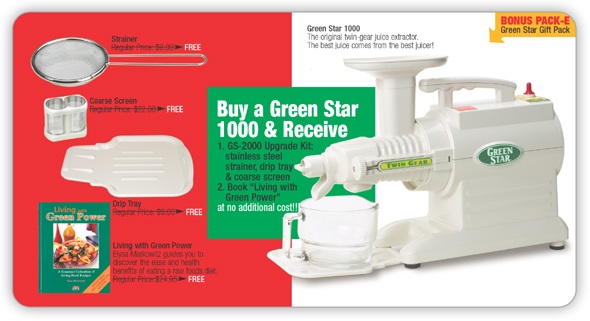 Buy a Green Star 1000 Juicer for $359.99 and get $64.95 in gifts FREE!

| | |
| --- | --- |
| | Retail Value |
| 1. GS-2000 Upgrade Kit | $40.00 |
| 2. Living with Green Power Book | $24.95 |
| Total Value | $64.95 |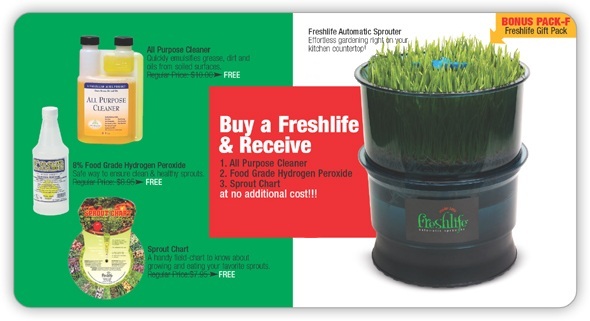 Buy a Fresh Life Sprouter for $89.99 and get $26.90 in gifts FREE!

| | |
| --- | --- |
| | Retail Value |
| 1. All Purpose Cleaner | $10.00 |
| 2. 8% Food Grade Hydrogen Peroxide | $8.95 |
| 3. Sprout Chart | $7.95 |
| Total Value | $26.90 |

Additional Terms of this Offer:
1. Order must be placed between Nov 14, 2004 and midnight Dec 21, 2004
2. This offer may end at any time sooner than above dates without notice.
3. You must order off this web page to get these special Gift Bonus Packs.
4. If the item is returned, the gifts must also be returned.
5. Our Flat Rate Shipping will apply on all these special Bonus Gift Pack Orders.
6. This offer can be combined with our regular inventory items.
7. This offer can not be combined with our clearance items, which must be purchased separately.
8. The gift pack offers are not valid to orders that have been previously been placed.
9. Orders for the above items from the normal item page, will not receive the bonus gift pack.