The Shine Easy Cold Press Juicer with XL feed chute is the easiest to clean vertical juicer money can buy. You can create fresh vegetable and fruit juices in your kitchen in minutes and clean up fast!
Introducing the second juicer from Shine Kitchen Co., the easy cold press vertical juicer with XL feed chute. Compact, accessible and easy to use this product fits easily into any lifestyle. This innovative juicer breaks down the barriers to health, designed to help you Shine bright!
The Shine cold press juicer runs at a slow speed and has a 200 Watt motor that can grind and extract the juice from common fruits and vegetables.



Xtra Large Mouth
The eXtra large 3" feed chute allows for quick fill of whole apples and other large produce pieces for quick and easy preparation for juicing.

Xtra Simple Operation For hands free operation, simply fill the chute with your favorite combo of juicing produce and flip the switch. The Shine SJX Easy Juicer will cut, grind and press your juice one batch at a time. For larger juicing volume, continuously feed your SJX through the quick fill flip top lid.
Xtra Easy to Clean
With only 3 pieces to assemble and clean, post-juicing clean up is a breeze! The integrated screen rinses clean along with the auger and housing in seconds with the help of the included XL cleaning brushes.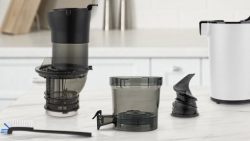 Fits Anywhere
Compact juice with a small footprint for a juicer of just 5.8" wide at the base. Takes less space on your counter and is compact enough to travel with.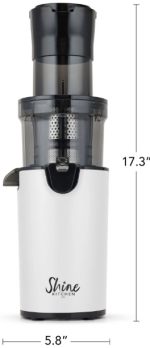 Three Year Warranty
The Shine Easy Cold Press Juicer has a full 3 year warranty, which is 3x longer than juicers in this class. This is your assurance than you will be juicing and getting the all the benefits that juicing will provide.
More about the Shine Kitchen Co
The Shine Kitchen Co's design ethos is to maximize performance while minimizing our footprint. Our compact designs use less materials and fit in any sized kitchen. Our efficient engineering ensures maximum performance with minimal waste. The Shine Kitchen Co. was born in Southern California out of a 30-year journey in health and wellness. Our expertise is drawn from decades of experience in making healthy living easy and everything we make is backed by Tribest's legendary service. You can rest assured that your warranty won't outlast the life of our company and that we've always got your back. Your investment in health is safe with us.