The Solostar 4 features an all-new breathtaking design coupled with intelligent engineering. Its gorgeous body
is wrapped around an efficient drive system that produces more power while using less electricity. The low
speed operation, cold-press squeezing action, and increased juice yields help you maximize your daily intake of
enzymes, vitamins, and nutrients. It is the best horizontal single auger juicer in the world. Get to know the new
Solostar 4, itís beautiful on the inside too.

Due to its smart design, the Solostar 4 crushes the competition by producing
26% more torque while using 10% less electricity. It has a gear reduction
equivalent of a 5.4 HP motor. More torque means less jamming and less
electricity means savings on your electric bill and your carbon footprint. You
get additional savings by lowering your grocery bill, because the Solostar 4
produces up to 40% more juice from your favorite fruits and vegetables. The
sleek, compact, and modern design takes up less space while looking beautiful
on your kitchen countertop. And, since all food contact parts are made
from BPA- and BPS-free materials, you donít have to worry about exposing
your family to harmful chemicals. Each Solostar 4 also comes with a standard
15 year warranty, the longest warranty of its kind in the industry.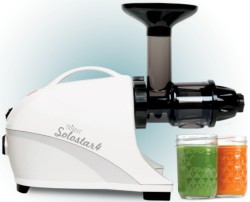 At only 57 RPM, the Solostar 4 is the slowest and gentlest horizontal single
auger juicer on the market. The slow and gentle juicing process virtually
eliminates all heat and oxidation, preserving more essential nutrients and
live enzymes. This results in healthier, nutrient-dense juice. The class-leading
auger size and Dual-Stage Extraction Process produce maximum juice yields.
The Ultem auger is also 8x stronger than other types of plastic, which allows
for an aggressive auger design that makes it easy to feed your produce into
the juicer. So, you get better juice, more of it, and itís easier to use.
At only 57 RPM, the Solostar 4 is the slowest and gentlest horizontal single auger juicer on the market. The slow and gentle juicing process preserves more nutrients and enzymes, resulting in healthier juice.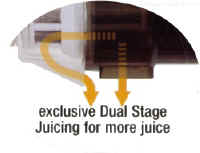 The Dual-Stage Extraction Process crushes and presses produce for maximum juice yields. The Ultem auger is 8x stronger than other types of plastic, which allows for an aggressive auger design that makes it easy to feed your produce into the juicer. So, you get better juice, more of it, and itís easier to use.
Unique dual-stage extraction process and larger single auger result in greater juice yields with less pulp mixed in the juice.
Tribest's new and improved SoloStar 4 with a larger auger and unique dual-stage juicing process, is the affordable way to obtain high-quality "juice bar" performance from an extremely efficient home juicer.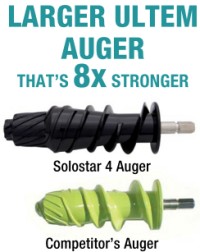 In order to deliver more juice from your produce, the SoloStar auger is longer and heavier than its competitors. The auger effectively forces produce through the grinder while enhancing the SoloStar's simplicity of operation.
SoloStar also utilizes a unique dual-stage process that extracts juice more efficiently than other single-auger juicers. It filters out juice during an initial crushing phase before it can be reabsorbed into the pulp, then squeezes the remaining pulp in a secondary pressing phase for maximum yield. During the secondary pressing stage, the pulp is squeezed through a screen that has more surface area than any competitor, this may explain the higher yield produced in the solostar 4 Juicer.
VERSATILITY
The result is fresher, natural tasting, "live" juice from most fruits, vegetables, leafy greens, herbs, and grasses that you could ever want to juice. It also easily converts into a flat pasta or round noodle maker and mochi mill with the accessories included.
QUALITY
Solostar's low-speed Auger gently crushes and squeezes produce. Because juice is not heated and mixed with oxygen in the process, the fragile vitamins, nutrients, and enzymes are preserved. SoloStar delivers all the natural goodness and superior flavor that you demand from a top quality juicer.
DURABILITY
Only the highest quality materials are used in the SoloStar's construction. Its straightforward design and precise assembly insures trouble-free juicing for years. SoloStar is UL & CE approved and meets our highest manufacturing standards. The SoloStar is covered by a 15 year warranty on parts and service.
SERVICE
Tribest Corporation has been world renowned for bringing you the Green Power, Green Life and Green Star juicers. Now with the SoloStar, Tribest Corp. celebrates over 25 years of bringing you service, quality and value. Tribest is committed to your satisfaction, and are proud to be of service.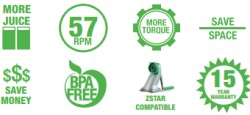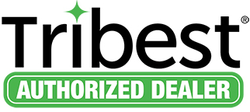 DiscountJuicers.com is an Authorized Dealer for all Tribest products. Tribest products purchased from an authorized retailer includes FULL warranty protection (15 Years on the Solostar 4). Purchases from a non-authorized retailer may NOT be eligible for warranty protection. Be sure to purchase from a known Authorized Retailer to ensure your warranty protection benefit.

The solostar 4 single auger juicer makes it affordable to obtain fresh, high quality, "live" juice.
Fruit and Vegetable Juicing


SoloStar's 4 exclusive Dual-Stage juicing process is extremely efficient. The ejected pulp is dryer than that from other juicers, which means you get more juice out of your produce. Its extremely slow rotation speed ensures that the juice extracted with the solostar 4 is of the highest quality, and of the best flavor, with no heating of the juice. Less oxidation of the juice can contribute to more of the living enzymes and nutrients being extracted intact.
Wheatgrass Juicing


solostar 4 makes juicing wheatgrass, herbs and even pine needles quick and effortless. Even the toughest to juice produce is easy with this machine.
Homogenizing


solostar 4 works great as a food processor. Make your own nut butters, pates' and delicious sorbets right at home. Sauces and baby food are easy to make, and are fresher and healthier than what you buy in the store, because you make it yourself at the time of consumption. Eliminate preservatives and unwanted additives. Many experts agree that we should increase the intake of fresh fruits and vegetables.
Pasta Extruding


With the included accessories, solostar 4 easily converts into a Pasta Presser. Use your favorite ingredients to make your own fresh spaghetti or fettuccini type pasta noodles. Add different juices to your pasta dough to enhance flavors, and create exciting new colors
Mincing


Grind, chop or mince your favorite spices. Save time by preparing garlic, pepper, onion, ginger, or any other spices with the solostar 4. Less time in the kitchen means more time with your loved ones. (and we can all use more of that!) Also works great with meat and fish.
Milling
Make delicious rice cakes with the solostar 4 in the comfort of your own kitchen.
Features:
More Juice- Dual stage extraction and larger auger means more surface
area to maximize yields
More Enzymes, Vitamins, and Minerals- Extremely low speed of 57 RPM
to prevent heat and oxidation
Less Jamming- Gear reduction equivalent of a 5.4 HP motor with 26%
more torque
Homogenizing Screen allows you to make rice cakes, breadsticks, grinding, and extruding pasta noodles
More Savings- 10% less electricity consumption and higher yields means
more savings at the register
Sleek, modern design looks great on your kitchen countertop
More Kitchen Space Compact, sleek, and intelligent design with smaller
footprint
Dual-Stage Extraction
Process crushes and presses produce for maximum juice yields
Ultem auger is 8x stronger than other types of plastic
BPA-Free Materials- All food contact parts are made from BPA- and BPS-free materials
Detachable Power Cord for easy storage
Take Juicing on the go with the optional Zstar Manual Conversion Kit for when you need to juice on-the-go
Easy to Use, assemble and clean
15 Year Warranty- Longest warranty of its kind in the industry
Includes:
Main Body
Auger Housing Retaining Ring
Screens - Juicing, Homogenizing
Screen Locking Cap
Auger
Auger Housing
Feeding Chute
Funnel
Funnel Cover
Containers - Juice, Pulp
Strainers - Juice Container, Hand-held
Nozzles - Juicing, Homogenizing, Fettuccini, Spaghetti
Plastic Plunger
Cleaning Brush
Removable Power Cord
Operations Manual with recipes
Specifications:
Model - SS-4200-B
Size - 19" L x 8" W x 10" H
Weight - 15.5 pounds
120 Volt; 60 Hz; 135 Watt
Power Cord - 6' detachable
15 Year Limited Warranty