Over 40 years excellence!
The first name in food dehydration presents the EXC10EL Dehydrator, featuring 100% Stainless Steel Interior, Exterior and Trays!. The EXC10EL dehydrator uses the exclusive turbo charged Parallexx Drying System with digital timer.

Finally! Excalibur does it right, and comes out with the machine we have been waiting for for the last 20 years! An all stainless steel dehydrator that will lend a touch of class in your kitchen. This new 10 tray dehydrator is the largest dehydrator that Excalibur makes for the home will allow you to dehydrate and preserve all your fruits and vegetables, make yogurt, make jerky and more! This is the dehydrator that you should purchase if you are a health enthusiast that is concerned about plastic coming in contact with your food. Only FDA Food Grade Stainless Steel is used in the exterior, interior and 100% stainless steel trays. Watch out for lesser quality stainless steel dehydrators that actually come with CHROME plated trays that may be toxic.

The NEW integrated digital timer and temperature control allows you to perfectly dehydrate any food you wish at a specific temperture and length of time you desire. The ALL-NEW two-time / two-temperature cycle will decrease your dehydration time while still preserving the maximum amount of enzymes and other nutrients while keeping your food 'raw'.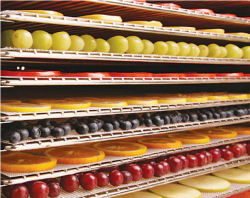 The Parallexx design, with a temperature controlled, fan forced, horizontal drying system mounted in the rear is exclusive to the EXC10EL. The same features found in Excalibur's USDA approved $5000.00 commercial model...in a commercial quality home unit.

With 40+ years of manufacturing excellence, the Excalibur Food Dehydrator sets the industry standard for design, quality, and dependability.

Why the Excalibur Dehydrator
Excalibur Offers the Turbo Charged Parallexx Drying System. Millions have rediscovered the benefits of food dehydration. Healthy, nutritious, and tasty food at a huge savings. Now Excalibur makes drying easy. For centuries food has been dried in the sun or open air - a lengthy, messy and difficult process inviting contamination and spoilage. With the introduction of electric dehydrators the drying process was improved. But most manufacturers offered round stackable models with a heating unit in the bottom. Excalibur pioneered a rear-mounted equipment package allowing horizontal or parallel air flow...The Parallexx System.

The Excalibur Food Dehydrator
Fast, Easy, Economical and Efficient
Adjustable Thermostat 95 - 165 degrees F
Armored Glass Door - Simply look in to check drying process.
10 Stainless Steel Trays - Largest Excalibur dehydrator made for the home.
Built in 99 hour timer - Turns the dehydrator off after the time you set has elapsed.
Two-Time/Two-Temperature - Revolutionary feature that decreases the dehydration time and preserves enzymes and nutrients.
Convenient Front Access Controls- Access all controls from the front panel and slide the dehydrator back under standard kitchen cabinets.
Quiet Motor - 6.5 inch Diameter Fan and Insulated Case reduces noise from previous models.
Removable Drip Tray - Catches Crumbs and Drips to make cleanup a breeze.
Digital Display - Set the dehydrator to the desired time and temperature you desire.
Removable Stainless Steel Trays - 100% Food Grade Stainless Steel trays.
Dual Wall Stainless Steel Interior and Exterior - The outside of the dehydrator stays cool to the touch.
Controlled environment for a wide variety of uses, i.e. making fruit roll-ups, trail mixes and drying flower arrangements, herbs, art and crafts, photos.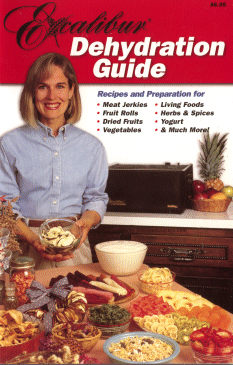 Each excalibur dehydrator includes a FREE Dehydration guide, a $6.95 value!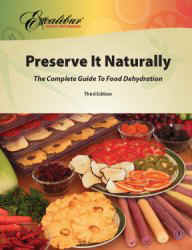 Each Excalibur EXC10EL includes a
FREE Preserve it Naturally Book
A $24.95 value! In this 192 page book you will learn everything about dehydration includes recipes too!
Also Includes a Raw Foods Section.
What is a Premiflexx non stick dehydrator sheet?
Our Premiflexx non-stick sheets are solid sheets, unlike the stainless steel trays that are included with the dehydrator. They are washable and re-useable.
They are used for dehydrating liquids (such as blended fruits- to make fruit roll-ups) or really sticky/gooey items that would normally drip through the stainless trays that are included with the dehydrator. They are also required for making THIN sprouted essene breads and crackers. Order Premiflexx sheets separately here.

Digital Thermostat Control


Lets you select precise drying temperature from 95 degrees F to 165 degrees F.
Single or Dual Timer Operation


99 Hour digital count-down timer turns the dehydrator off after the exact time you set. You can also program 2 time durations and 2 temperatures for faster drying times. This is especially useful for preserving the most enzymes in food.
Armoured Glass Doors


Strong and durable. Tempered glass allows visibility to see the process of dehydrating without opening the machine.
Removeable Drip Tray


The removeable stainless steel drip pan catches crumbs and drips to make clean up easier than other models.
100% Stainless Steel Trays


The large food grade 100% stainless steel dehydration trays gives you plenty of space to dehydrate your foods and will last a lifetime.
How Parallexx Works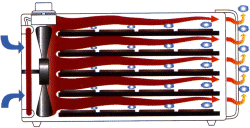 The fan, heating element, and adjustable thermostat are mounted in the rear. Cool air is drawn in the back, heated up, and distributed evenly across each tray. During the dehydration process, warm air removes moisture from foods and is pushed out the front of the machine.
Excalibur Parallexx System Advantages:
Complete drying system in rear. (includes thermostat and fan)
Easy to clean... Spills fall on seamless bottom.
Horizontal drying provides even drying, eliminating tray rotations. Fast drying...
Adjustable thermostat allows perfect drying every time.
Square design increases drying area "25%" with no holes in center of tray.
Versatile... Trays can be removed to expand drying chamber.
Any dehydrator will dry food. Excalibur dries BETTER, FASTER & SAFER thanks to HYPERWAVE FLUCTUATION
TECHNOLOGY!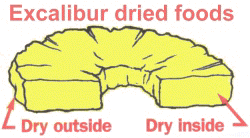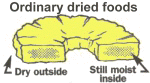 Ordinary dehydrators produce constant, unchanging heat causing "case hardening," a dry surface with moisture trapped inside - a perfect environment for bacteria growth. Excalibur's Adjustable Thermostat lets you take advantage of Hyperwave Fluctuation (changing heat through the drying cycle) for faster, better, safer dried foods. As the temperature fluctuates up the surface moisture evaporates. Then as the temperature fluctuates down the inner moisture moves to the drier surface. The food temperature stays LOW enough to keep the enzymes active, and the air temperature gets high enough to dry food fast, overcoming bacteria growth and spoilage. Perfect for raw and living foods.

The Excalibur EXC10EL 10 Tray Dehydrator is Easy as 1..2..3..



Simply wash, slice and load food onto the dehydrator trays. No boiling water, steam pressure, jars or elaborate preparations are necessary.

Next, place trays in the dehydrator and set the time(s) and temperature(s). Withing hours your food is dried and ready to eat or store.

Lastly, remove the dried food and store in any convenient airtight container or bag. Trays be be placed in the dishwasher for easy cleaning.
Excalibur EXC10EL Specifications:
This is the largest size premium model with large area ideal for volume drying. Holds lug of peaches, 8 large pineapples.
Adjustable Digital Thermostat
Upgraded Electrical Components
95 - 165 degrees
10 trays - 15" x 15" each
Includes 10 100% stainless steel trays
Stainless Steel Cabinet Interior
Stainless Steel Cabinet Exterior
16 square feet of total drying area.
17"High
17.25" Wide
20.5" Deep
6.5" Fan
600 Watts
120 volt 60hz
Weight: 63 lbs.
10 Year Limited warranty
Includes Preserve it Naturally Book (A $24.95 Value)
UL and NSF Certified
MADE IN THE USA
Sold for USE INSIDE THE USA. We do not sell Excalibur Dehydrators for export either directly or indirectly.