The world's first Quiet Vacuum Blender
The Kuvings High-Speed Vacuum Blender completely redefines the art of blending.
Now you can enjoy more nutrients, more flavor, smoother consistency and freshness without the common blending problems of oxidation, separation, and noise.
The High-Speed Vacuum Blender removes over 90% of the oxygen to produce smoothies, purees, soups, sauces and numerous other recipes with a minimal loss of nutrients.
Optimal vacuum conditions created by -80KPa of pressure prevent ingredients from contacting air to keep the colors and nutrients as they are and enhance the intrinsic taste of fresh ingredients. Because you are blending within a vacuum, ingredients automatically move down towards the blades eliminating the need for a tamper.

The Auto-Blend function senses each ingredient's loading capacity and calculates the optimal RPM and blending time, stopping automatically when ingredients are at the optimal condition.
The commercial universal motor with 32,000RPM of maximum speed blends ingredients, such as leafy vegetables, tough ingredients and frozen fruits into a creamy, fine and soft texture with 3.5hp of instant maximum power. By adopting an anti-noise cap, the noise caused from ultra high-speed blending is reduced dramatically.
A safety sensor makes sure that the vacuum blender will only operate when the container perfectly sits in the main body.
The Highlights of the SV500 High Speed Quiet Vacuum Blender

Vacuum Blending
It preserves color and nutrients by preventing ingredients from contacting air and enriches the natural taste and nutrients of fresh ingedients.
Powerful Motor
The powerful 3.5 peak horsepower motor that can reach speeds up to 32,000 Revolutions per minute will easily blend ingredients finely to enhance taste.

Noise Reduction Cover
The noise reduction cover minimizes the noise caused by the High-Power and High Speed Blending to have a more quiet environment.


Auto-Blend Function
Even a beginner can make all kinds of smoothies, sauces and dips with the Auto-Blending Function that controls the speed and time of the blender so you do not have to remember how fast or how long to run your blender.


Make Personalized Recipes
By using the variable speed dial (settings 1 to 10), manually set the speed from 2,000 to 20,000 RPM to make the perfect recipe every single time.

Triple 3D Moving Blades
The 3D Moving blade system with 6 blades rotating tridimensionally enables deep blending to ensure the finest blend possible.

Motor Protection Sensor
With a motor protection sensor preventing overheating of the motor, it will automatically prevent overload of ingredients and keep your motor safe.


Air Cooling System
The heat discharge structure emits heat caused when blending outside the body, enabling consecutive use.
Built-In Safety System
The build-in safety system will not allow the blender to operate unless the container is perfectly mounted on the motor base to prevent unsafe operation.


Tamper Set (optional)
The optional tamper set (Available at a later date) will allow you to easily grind coffee beans, almonds, nuts and other thick ingredients without using the vacuum feature.
Includes Full Color Recipe Book to help you to get healthy
The Kuvings Quiet High Speed Vaccum Blender is the only vacuum blender that includes a full-color recipe book with smoothie recipes, blended juice recipes, soup recipes, nut milk recipes and more you can make with the Kuvings Vacuum Blender. It contains 60 full color pages of bright pictures and recipes to help you get on the road to better health.


BPA-Free Vaccum Blending Carafe
The 64 ounce capacity Eastman Tritan blending carafe has been designed to best circulate ingredients into the blades when blending. It has a rubberized easy-grip handle to ensure you do not easily drop the carafe. This carafe weighs 29 ounces in total. Actual Liquid blending capacity of this carafe is 43 ounces.


BPA-Free Storage Container
The included Vacuum To-Go Tumbler allows you to remove the excess air from your smoothies and other creations so you can take your smoothies to work, school or when you travel. This To-Go Tumbler will allow you to maximize the taste, flavor and nutrition of your smoothies if you are not able to drink them immediately after they are made.


Easy Blend Buttons
The three pre-programmed buttons make it easy to blend ingredients into any desired texture.
1. Vacuum Button - Removes excess air from the container
2. Auto Button - Automatically Remoes excess air from container and then will automatically blend any ingredients you put into the blender and stop automatically.
3. Auto-Blending Button - Automatically Blends ingredients inside blender and will vary speed and time depending on items being blended. (non-vacuum feature)



Noise Reduction Cover
The Noise reduction cover has two primary purposes:
1. Minimize noise generated when the Kuvings Quiet High Speed Vacuum Blender is Running.
2. Is the unseen way the Kuvings Quiet High Speed Vaccum Blender removes the air out of the container without any pumps, or arms that latch onto the top of the carafe.
The blender can be easily stored with all pieces nested on top of each other for a nice, modern look.
The Kuvings Quiet High Speed Vacuum Blender can make many recipes:
Smoothies
Blended Juices
Nut Milks
Blended Soups
Blended Salads
Salad Dressings
Dips & Sauces
Sorbet
Guacamole
Nut Butter
Hummus
and much, much more.
Why Purchase a Vacuum Blender?
1. Ordinary blenders create greater oxidation due to the air inside the blender when blending. This causes food to brown quicker and diminishes nutrients. Vacuum blending removes excess air and preserves freshness, nutrients and provides a smoother texture.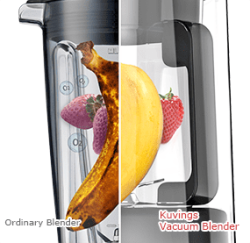 2. Less Separation, Less Air and deeper, richer color with a smoother texture.

3. More nutrition. Based on testing, certain vitamins and antioxidants may be higher in a vacuum blender due to less oxidation to these fragile nutrients.

Features:
Easy to Use and Easy to Clean
Blend under Vacuum to Maximize Taste, Flavor, Nutrition and Texture
One-touch auto blend technology starts and stops on its own.
BPA-Free containers
Includes 60 Recipes to get you started
Noise Reduction Cover to minimize noise level.
Specifications:
Color: Black
Vacuum Blender
3.5 Peak HorsePower
BPA Free
Patented
-80KPa pressure
Smart Auto Blend Function
20 step analog speed control
Illuminated Controls
2000 - 20000 RPM (32,000 Max)
1500 Watt Motor 120 Volts 60 Hz
65 ounce carafe capacity
43 ounce liquid blending capacity
8.5" W x 9.5" D" x 17.5" H
14 pound blender weight
21 pound shipping weight
Made in Korea
7 Year Warranty
Parts included:
Kuvings SV500 Motor Base
BPA-Free Blending Carafe
BPA-Free Vacuum Lid
Noise Reduction Cover
BPA-Free Storage Container
BPA-Free Storage Container Lid
Instruction manual
Full Color Recipe Book (95 Pages)